Upcoming Events
2020 - 2021 Battle of the Books
Date:
 November 2020 - January 2021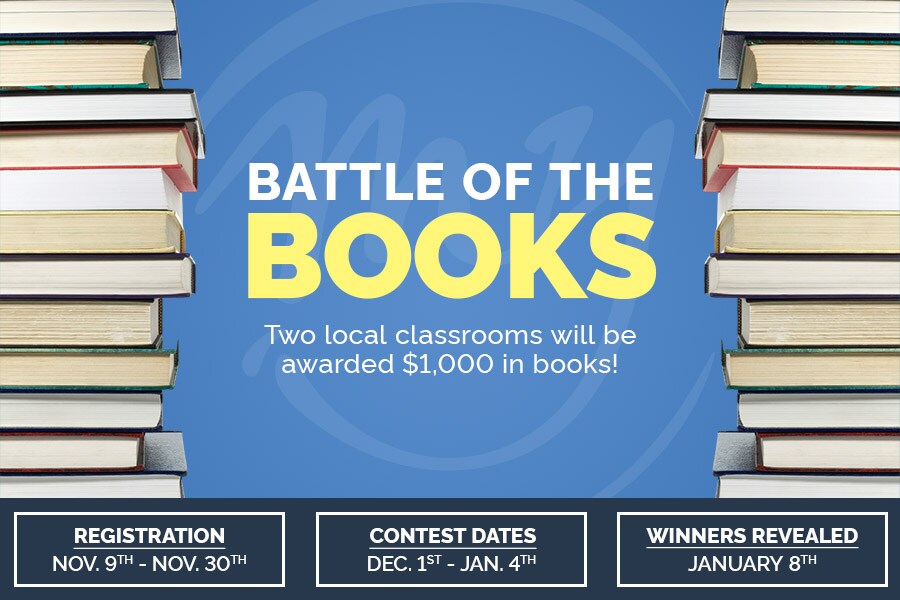 Battle of the Books is here! This year's competition is open to schools in Mason, Muskegon, Newaygo, Oceana, and Ottawa County. The winners in kindergarten through third grade and fourth grade through sixth grade will each receive $1,000 in books and a pizza party courtesy of the dealership. Kindergarten through third grade winners will be based on the amount of books read while fourth-grade through sixth will be based on hours read. The winners will be based on the highest class average.
Registration takes place November 9th-November 30th. We will only accept the first 40 classes that register.
- Teachers must register via email with Maria Secord, Community Relations Director, msecord@themyautogroup.com, and include their full name, contact email, school name, class size, and grade.
- Once information is received My Auto Import/Subaru of Muskegon will send out tracking sheets.
Competition runs December 1st - January 4th.
- Students fill out their tracking sheets and return to their teacher week of January 4th. Student/Teacher can always request more tracking sheets from Subaru of Muskegon. Teachers send in their tracking sheets with class totals to Maria Secord.
- Subaru of Muskegon is asking for updates and pictures on how the students are doing with the competition. Pictures will be posted to social media. Students faces can be blurred out for privacy if requested by teacher/parents.
Teachers tracking sheets are due by Thursday, January 7th at 6:00 pm.
- Please email them to Maria Secord, msecord@themyautogroup.com.
Winners are revealed Friday, January 8th at 1:30 pm via Facebook.
- Winners are asked to submit a Love Promise Story by February 8th, 2021.
Subaru Loves Pets Month
Date:
 October 2020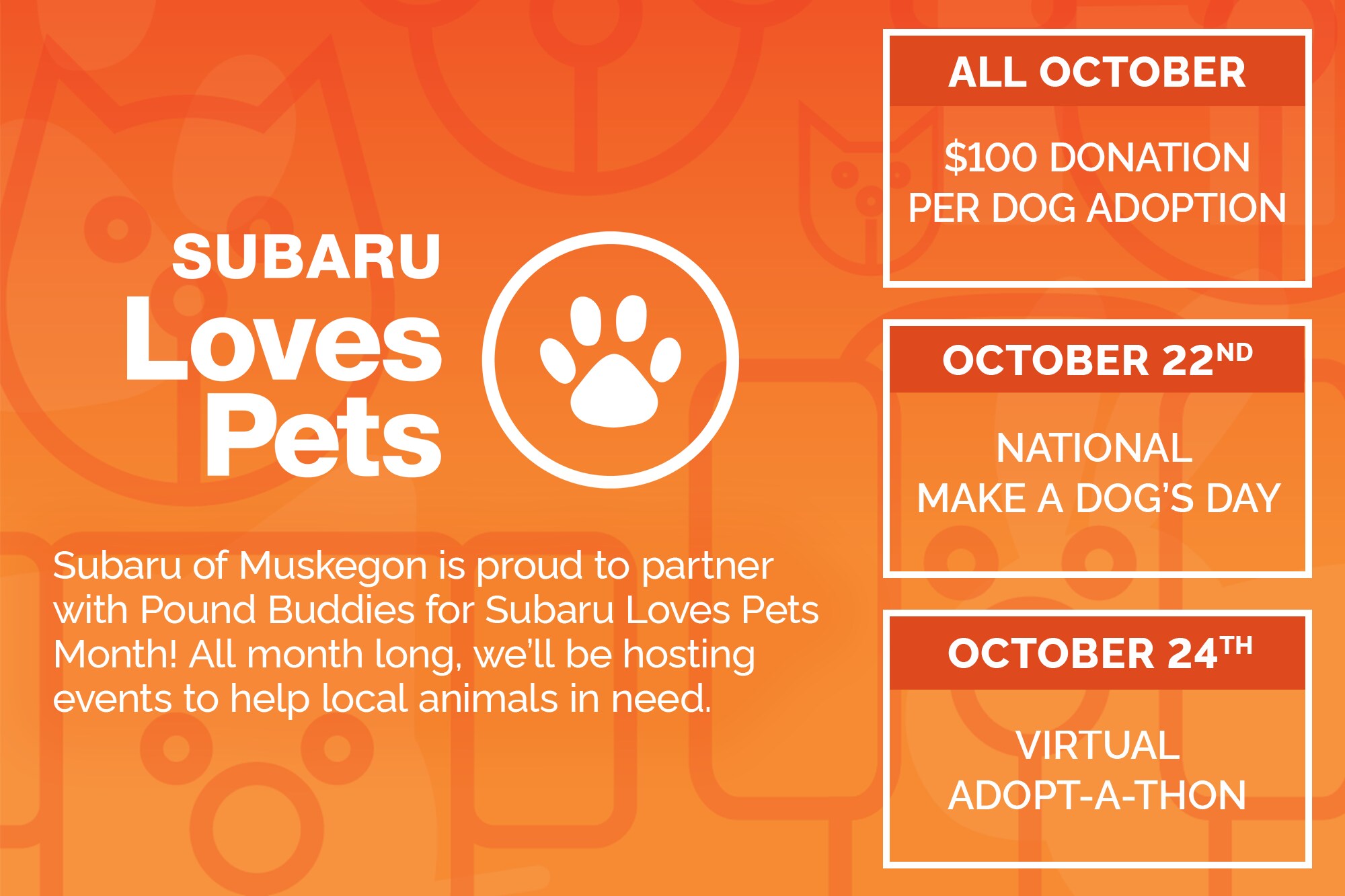 October is Subaru Loves Pets Month and we'll be celebrating with a variety of events benefitting Pound Buddies of Muskegon! For every dog adopted from Pound Buddies in the month of October, we will donate $100 to Pound Buddies!*
October 22nd is National Make a Dog's Day! Check the Subaru of Muskegon Facebook page on this day to participate in a virtual event that will benefit both Pound Buddies and the Harbor Humane Society.
On October 24th, Subaru of Muskegon and Pound Buddies will be partnering on a virtual Adopt-A-Thon. The event will be held on Facebook Live. Stay tuned for more updates and additional information.
Lakeshore Chiefs
Date:
2020 - 2021 Season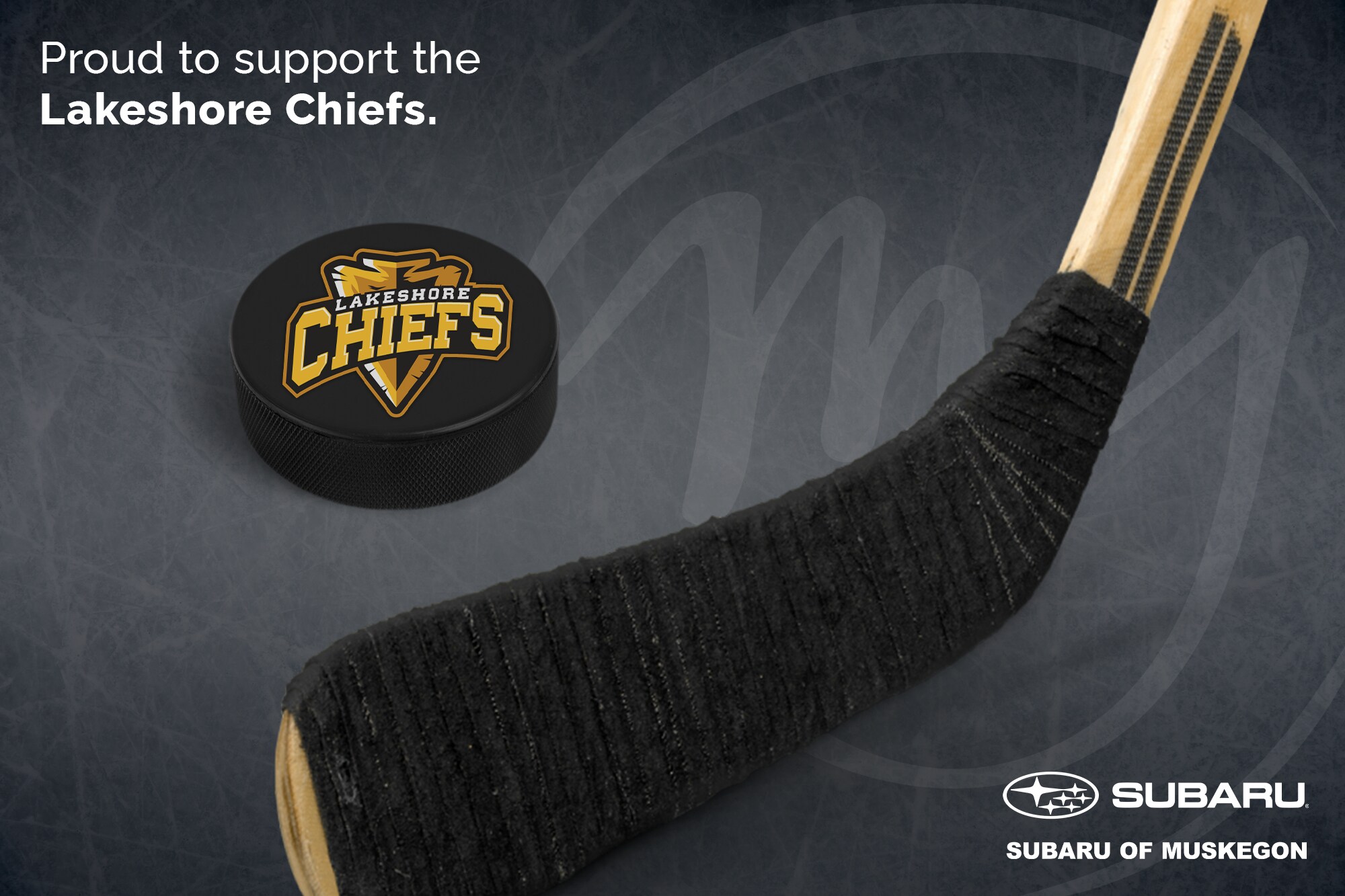 Subaru of Muskegon and The My Auto Group are proud to be sponsors of the Lakeshore Chiefs! You can find more information about the team by visiting
lakeshorechiefs.org/
.
Would you like to be a partner?
Send Us a Message
Our Partners